My Blog
Posts for: January, 2015
By Paul David Epstein, D.M.D. & Associates, P.C.
January 29, 2015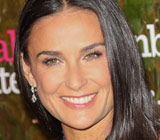 Once upon a time, a well-known Hollywood actress might have hired a private eye to keep unflattering pictures from appearing in the media. Today, that's no longer the case. Take timeless beauty Demi Moore: In a widely circulated set of photos, her gap-toothed grin showed she was actually missing one of her front teeth!
It turns out the actress released the pictures herself, as she live-tweeted the tooth replacement procedure from her dentist's office. Moore later explained that the tooth fell out suddenly as she was sitting at her desk.
Celebrities are just like regular folks… except they have more followers on twitter. So we're happy when they show us that no matter how bad a dental problem may seem, there's almost always a way to regain a gorgeous-looking smile. We're not sure exactly how Demi's dentist chose to restore the damaged tooth — but depending on the individual circumstances, modern dentistry offers a number of ways to close the gap.
A crown (or cap) is a replacement for the entire visible area of the tooth. It may be needed due to accident or trauma, or as a follow-up to root canal therapy. Placing a crown usually requires more than one office visit. First, the tooth is prepared by removing any decay and shaping it, and a precise model is made of the bite. Next, the permanent crown is custom-made in a dental laboratory; this is placed during a subsequent visit. Advances in technology, however, have made it possible in some instances to deliver the permanent crown in a single office visit. If the tooth still has a healthy root structure, a crown is usually a viable option — even when most of the visible part is gone.
What if the entire tooth, including the roots, are missing? Then your replacement options could include bridgework or a dental implant. A fixed bridge is a series of crowns joined together as one unit. The teeth on either side of the gap are prepared just as they would be for crowns, and the bridge (including a replacement for the missing tooth in the middle) is attached. Bridges have been used successfully for many years, but they have a drawback: They require enamel to be removed from the healthy teeth on either side of the gap, which could lead to a greater chance of decay, gum disease, or a root canal in the future.
The optimal solution, however, might be a dental implant. With this remarkable technology, the replacement tooth is solidly anchored into the jaw via a screw-shaped post made of titanium — a metal which actually becomes fused with the living bone tissue. A custom-made, lifelike crown is then securely attached to the metal implant. Dental implants are the most successful tooth-replacement procedure; they help preserve bone quality in the jaw — and with regular care, they can last a lifetime.
So if your smile is making you camera-shy, why not talk to us about your tooth-restoration options? If you would like additional information, please contact us or schedule an appointment for a consultation. You can learn more by reading the Dear Doctor magazine articles "Crowns & Bridgework" and "Dental Implants."
By Paul David Epstein, D.M.D. & Associates, P.C.
January 14, 2015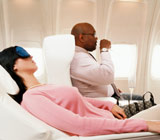 People who fly or scuba dive know firsthand how changes in atmospheric pressure can affect the body: as minor as a popping in the ears, or as life-threatening as decompression sickness. Pressure changes can also cause pain and discomfort in your teeth and sinuses — in fact, severe pain could be a sign of a bigger problem.
Barotrauma (baro – "pressure;" trauma – "injury"), also known as a "squeeze," occurs when the unequal air pressures outside and inside the body attempt to equalize. Many of the body's organs and structures are filled with air within rigid walls; the force created by equalization presses against these walls and associated nerves, which in turn causes the pain.
The sinus cavities and the middle ear spaces are especially sensitive. Each of these has small openings that help with pressure equalization. However, they can become swollen or blocked with mucous (as when you have a head cold), which slows equalization and contributes to the pain.
It's also possible to experience tooth pain during pressure change. This is because the back teeth in the upper jaw share the same nerve pathways as the upper jaw sinuses — pain originating from the sinuses can be felt in the teeth, and vice-versa. In fact, it's because of this shared pathway that pressure changes can amplify pain from a tooth with a deeper problem, such as a crack, fracture or a defect in dental work.
Besides problems with your teeth, the severe pain could also be related to temporo-mandibular joint dysfunction (TMD), which is pain or discomfort in the small joint that connects your lower jaw to your skull. There are a number of causes for this, but a common one for scuba divers is an ill-fitted regulator mouthpiece that they are biting down on too hard while diving. A custom-fitted mouthpiece could help alleviate the problem.
If you've been experiencing tooth pain during pressure change events, you should see us for an examination before you fly or dive again. There might be more to your pain — and correcting these underlying problems could save you extreme discomfort in the future.
If you would like more information on the effects of atmospheric pressure changes on teeth, please contact us or schedule an appointment for a consultation. You can also learn more about this topic by reading the Dear Doctor magazine article "Pressure Changes Can Cause Tooth & Sinus Pain."