My Blog
Posts for: May, 2015
By Paul David Epstein, D.M.D. & Associates, P.C.
May 29, 2015
A few days before the Oscars, Vanity Fair magazine asked Academy Awards host Neil Patrick Harris to name his most treasured possession. Was it his Tony award statuette for best leading actor in a musical? His star on the Hollywood Walk of Fame? The stethoscope he wore while playing teenaged doctor Doogie Howser on TV? No, as it turns out, the 41-year-old actor's most treasured possession is… his wisdom teeth. Yes, you read that correctly. "Oddly, I still have my four wisdom teeth," Harris said. "I refuse to let them go or I'll lose my wise parts."
How odd is it for a 41-year-old to have wisdom teeth? Actually, not that odd at all. While it is true that wisdom teeth are often removed, there's no one-size-fits-all approach to this. It all depends on whether they are causing problems now, or are likely to cause problems in the future.
The trouble wisdom teeth cause is related to the fact that they are the last molars to come in, and that molars are large in size. By the time wisdom teeth appear between the ages of 17 and 21, there often is not enough room for them in the jaw. Sometimes it's because you may have inherited a jaw size that's too small for your tooth size; and generally speaking, the size of the human jaw has evolved to become smaller over time.
If room is lacking, the adjacent molar (that came in earlier) can interfere with the path of eruption — causing the wisdom tooth to come in at an odd angle. The wisdom tooth can hit up against that other tooth, possibly causing pain or damaging the adjacent tooth. This is known as "impaction." Sometimes the wisdom tooth breaks only partway through the gum tissue, leaving a space beneath the gum line that's almost impossible to clean, causing infection. A serious oral infection can jeopardize the survival of teeth, and even spread to other parts of the body.
If a wisdom tooth is impacted, will you know it? Not necessarily. A tooth can be impacted without causing pain. But we can see the position of your wisdom teeth on a dental x-ray and help you make an informed decision as to whether they should stay or go. If removal is the best course of action, rest assured that this procedure is completely routine and that your comfort and safety is our highest priority. If there is no great risk to keeping them, as Neil Patrick Harris has done, we can simply continue to monitor their condition at your regular dental checkups. It will be particularly important to make sure you are reaching those teeth with your brush and floss, and that you keep to your schedule of regular professional cleanings at the dental office. All healthy teeth are indeed worth treasuring.
If you would like more information about wisdom teeth, please contact us or schedule an appointment for a consultation. You can learn more by reading the Dear Doctor magazine articles "Wisdom Teeth" and "Removing Wisdom Teeth."
By Paul David Epstein, D.M.D. & Associates, P.C.
May 11, 2015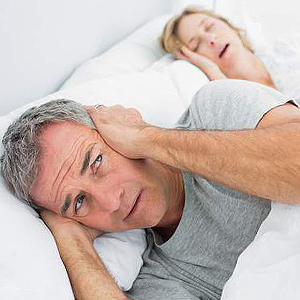 Do you still feel tired or unfocused even after a full night's sleep? Do others complain about your snoring? It's possible these are signs that you may have sleep apnea.
Sleep apnea is a condition in which you stop breathing while you sleep. Your brain will awaken you to breathe, although you may not consciously realize it since the waking period can be less than a second. But it does disrupt your sleep rhythm, especially during the all-important deep sleep period called Rapid Eye Movement (REM). These disruptions don't allow your body to receive the full benefit of sleep, hence your lack of energy and focus during the day.
One of the most common causes for sleep apnea is the collapse of soft tissues near the throat as they relax during sleep that restrict the airway. Snoring is an indication this may be occurring: air vibrates rapidly (and loudly) as it passes through this restriction when you breathe in.
As your dentist, we're well-trained in the anatomy and function of the entire oral structure, and qualified to offer solutions for sleep apnea. If you've been diagnosed with sleep apnea (after a complete examination, including an observation session at a sleep laboratory), we can then help you decide on a treatment approach. The following are three such options, depending on the severity of your sleep apnea.
Oral Appliance Therapy. An oral appliance you wear while you sleep is a first line treatment for mild or moderate sleep apnea. The appliance, which we custom design for you, helps hold the lower jaw in a forward position: this moves the tongue and other soft structures away from the back of the throat, thereby opening the airway.
Continuous Positive Airway Pressure (CPAP). Intended for more moderate to severe forms of sleep apnea, a CPAP machine produces continuous air pressure to the throat through a mask you wear during sleep. This forces the tongue forward and the airway open.
Surgical Intervention. These procedures remove excess tissue that may be obstructing the airway. Due to its invasiveness and permanent alteration of the throat area, surgery is reserved for patients who haven't responded to other therapies in a satisfactory manner.
Whether mild or severe, it's possible to effectively treat sleep apnea. If successful, not only will you benefit from better sleep and greater alertness, you'll also improve your long-term health.
If you would like more information on treating sleep apnea, please contact us or schedule an appointment for a consultation. You can also learn more about this topic by reading the Dear Doctor magazine article "Sleep Disorders & Dentistry."