My Blog
Posts for tag: smile makeover
By Paul David Epstein, D.M.D. & Associates, P.C.
January 18, 2019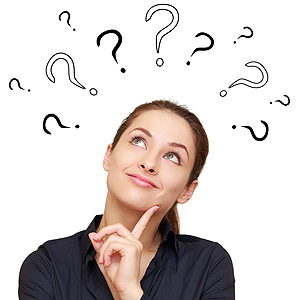 For some time now, you've noticed things about your teeth and gums — your overall smile — that you would like to change. But you're in unfamiliar territory: you don't know where to begin.
Here, then, are a few basic cosmetic dentistry questions you should ask yourself and us to get you moving in the right direction.
Am I a candidate for cosmetic dentistry? Invariably, the answer is yes — there's always a way to enhance your appearance, starting with basic hygiene or whitening. But whether you're a candidate for a particular procedure will depend on a full examination of your mouth — a "smile analysis" — to assess its current condition and needs, and what cosmetic options would best fit those needs.
Are my expectations realistic? That will first depend on what we find with your smile analysis. It will, however, also include studying the bigger picture — how certain changes might affect not only your smile but your overall facial appearance. Your wants and desires are extremely important in this process, but they should also be balanced with a dose of reality — some things may not be in your best interest health-wise to undertake, or are not in keeping with basic aesthetic principles of beauty.
Will I be able to have an idea beforehand how the changes will look? We've come a long way in providing patients ways to preview their new smile before undertaking a procedure. It's often possible to "see" your proposed smile through computer simulation, or in some cases "test drive" it with temporary (provisional) crowns or veneers. For restorations involving porcelain crowns, it may be possible to take your input and fine-tune the shape and color of the permanent crown before it's completed.
What will it cost? This will depend on the treatment plan we develop. Some treatments like teeth whitening are relatively inexpensive, while procedures like dental implants or orthodontics are major investments. You should also consider the costs to your time — some treatments require only a single visit, while others may take months or even years to complete. Depending on your financial means and comfort level, cost will need to be factored into the final plan, as well as your expectations.
If you would like more information on cosmetic dentistry, please contact us or schedule an appointment for a consultation. You can also learn more about this topic by reading the Dear Doctor magazine article "Cosmetic Dentistry: A Time for a Change."
By Paul David Epstein, D.M.D. & Associates, P.C.
August 11, 2018
The term "makeover" is a powerful word in today's society. It's used for a variety of things — hair, body, lawn — that need more than a different style, a little toning or some new shrubs. A makeover is a transformation, replacing the dissatisfying status quo with something new and dynamic.
Your smile and its various components — teeth, gums, jaw structure and facial features — might also be a candidate for a makeover. This involves more than just a few modifications. It's the answer to a smile we avoid showing in photos, cover with our hand when we're speaking or laughing, or makes us feel older than we really are. In other words, it's a comprehensive change to a smile that inhibits us from fully expressing ourselves in our friend, family or career relationships.
Of course, for any makeover to succeed, it must follow a plan. A smile transformation is no different. The process begins with what we call a "smile analysis": a comprehensive examination that determines the exact condition of your entire mouth. This enables us to identify problems and defects, understand how they interact with your other facial features, and then recommend a treatment plan that effectively addresses these issues.
The plan isn't complete, though, without your input. You may want a complete renovation — to restore missing teeth or change their shape, color and brilliance. On the other hand, you may be more comfortable with a few subtle changes, perhaps even keeping slight imperfections that you see as part of the real "you." Whichever path you take, the end result is a smile that makes you happy, and proud to show to others.
The various techniques and materials available through cosmetic or restorative dentistry can turn any disappointing smile into a beautiful one. Your journey to that newer, brighter smile begins with your next dental visit.
If you would like more information on smile makeovers through restorative or cosmetic dentistry, please contact us or schedule an appointment for a consultation. You can also learn more about this topic by reading the Dear Doctor magazine article "The Impact of a Smile Makeover."
By Paul David Epstein, D.M.D. & Associates, P.C.
February 13, 2015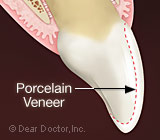 If you've ever looked through a magazine and viewed the perfectly aligned white smiles of celebrities and models, you may be already familiar with the look of porcelain veneers. To achieve a picture-perfect smile, many Hollywood stars choose porcelain veneers (thin-layers of porcelain) that are bonded to the front of teeth allowing for the alteration of tooth position, shape, size and color. By fixing imperfections, as well as whitening them, veneers offer celebrities a perfect smile that, when maintained properly, can last for several decades.
Evaluation: If porcelain veneers sound appealing, our office can help you decide if you're a good candidate for them. We will ensure you have sufficient tooth structure, that your teeth are in more or less a normal position, and that symmetrical gum contours are present, allowing for proper "framing" of the teeth, necessary for a beautiful smile.
The Process: Once it's been determined that you're a good candidate for veneers, our office will begin a smile analysis using computer imaging to digitally replicate your smile and then fabricate a mock-up smile made of tooth-colored wax. We will work with you to determine the right color and shade for your veneers. You can choose the brightest, whitest "Hollywood smile" or opt for a more natural color and enhanced look.
Next Steps: After your initial appointment, it typically takes the laboratory one week to fabricate your porcelain veneers. The insertion of your veneers can be done with or without a local anesthetic. We will place the veneers on your teeth with a light-sensitive resin, which sets with the use of a white light, effectively bonding them to your teeth. While you may initially experience some tooth sensitivity to hot or cold, this will disappear after a few days. Maintaining your perfect smile requires simple brushing and flossing techniques and routine check ups.
Contact us today to schedule an appointment to discuss any questions you may have regarding porcelain veneers. Read more about this topic in the Dear Doctor magazine article "Smile Design, Enhanced by Porcelain Veneers."